How to Use the Swarf Magic
Swarf Magic™ is designed to catch the die punchings from your Nibbler.

Simply remove the two screws from the base of your Nibbler. Insert the new screws provided through the underside of the Swarf Magic™ lid and re-attach to the base of your Nibbler.
Attach the canister by locating it in the lid and turning it clockwise.
It is not recommended that you cut over five (5) lineal meters of iron at any one given time.
For maximum efficiency the Swarf Magic™ should be emptied at intervals of five (5) lineal meters or less.
To empty, simply unscrew your Swarf Magic™ anti-clockwise to release the canister from the lid and empty contents into a receptacle.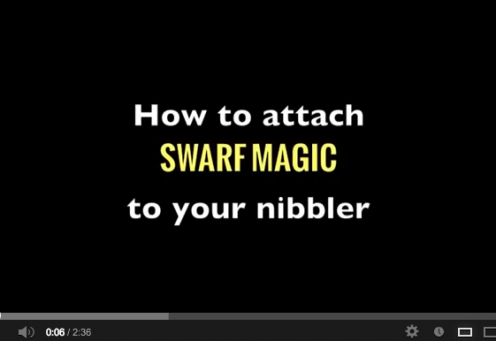 Swarf Magic™ Specifications
| | | | |
| --- | --- | --- | --- |
| Size | 45mm round | Material | Water clear polycarbonate |
| | 52mm deep | Colour | Clear |
| Capacity | No more than 5 lineal metres at any given time | Grip | Recessed base for grip |
| Body | Injection moulded | To Suit | 16 guage nibblers – Hitachi and Makita |
| Lid Type | Triple bayonet with nipple, twist on and off (fixed) | Weight | Only a few grams |
| Attachment | 2 x 3g, 15mm metric screws | Uses | For the collection of the fillings produced by a nibbler. |
At this time the Swarf Magic™ will only suit a 16 gauge nibbler, namely Makita and Hitachi. The small and compact design will allow you to use your nibbler in many different circumstances.
Who uses Swarf Magic™?
Swarf Magic™ is a perfect toolbox addition for any tradesman who use sheet metal or tin plate. This includes builders, plumbers, sheet metal workers, fabricators, the auto motive industry including motor cycle builders, boilermakers and many more.